Leather Belts for Men | Made in USA | Brullen® Co.
Leather Belts for Men | Made in USA | Fiera-2
The Fiera-2 Full Grain leather belts are 100% handmade in USA. Each hand-cut from a thick 9-10 oz. (5/32 – 11/64 in) (4.0 – 4.4 mm) Premium Vegetable Tanned hide and Solid Brass Buckles and come with a Lifetime Warranty against breakage.
We don't have inventory as this belt is made only when you place your order. We truly hand-cut and punch each belt and are not limited to cutting-die designs. You are able to customize your belt by selecting the color of the leather, buckle and rivets.
Tip End Options:
~ Round, English Tip, Square, Tapered (as shown)
Please let us know in your comments of your tip selection.
If you need us to modify the leather strap; we love to hear from you. 100% handmade is what we do!!!
Each belt, except the Hide Strap color way, is beveled then edge burnished. (Please note the Hide Strap color way edges are beveled only and the top surface and beveled edges are left 100% natural raw non-coated.)
Don't see the size you are looking for? No problem....we can make it for you at no extra charge. Contact us if you have any questions.
~Lifetime Warranty Against Breakage~
~ Handmade in Gilroy, CA. U.S.A. ~
~ Before you make your purchase, use our sizing chart to select the correct size. ~
(Add approximately 2"-3" to your waist size to get your belt size)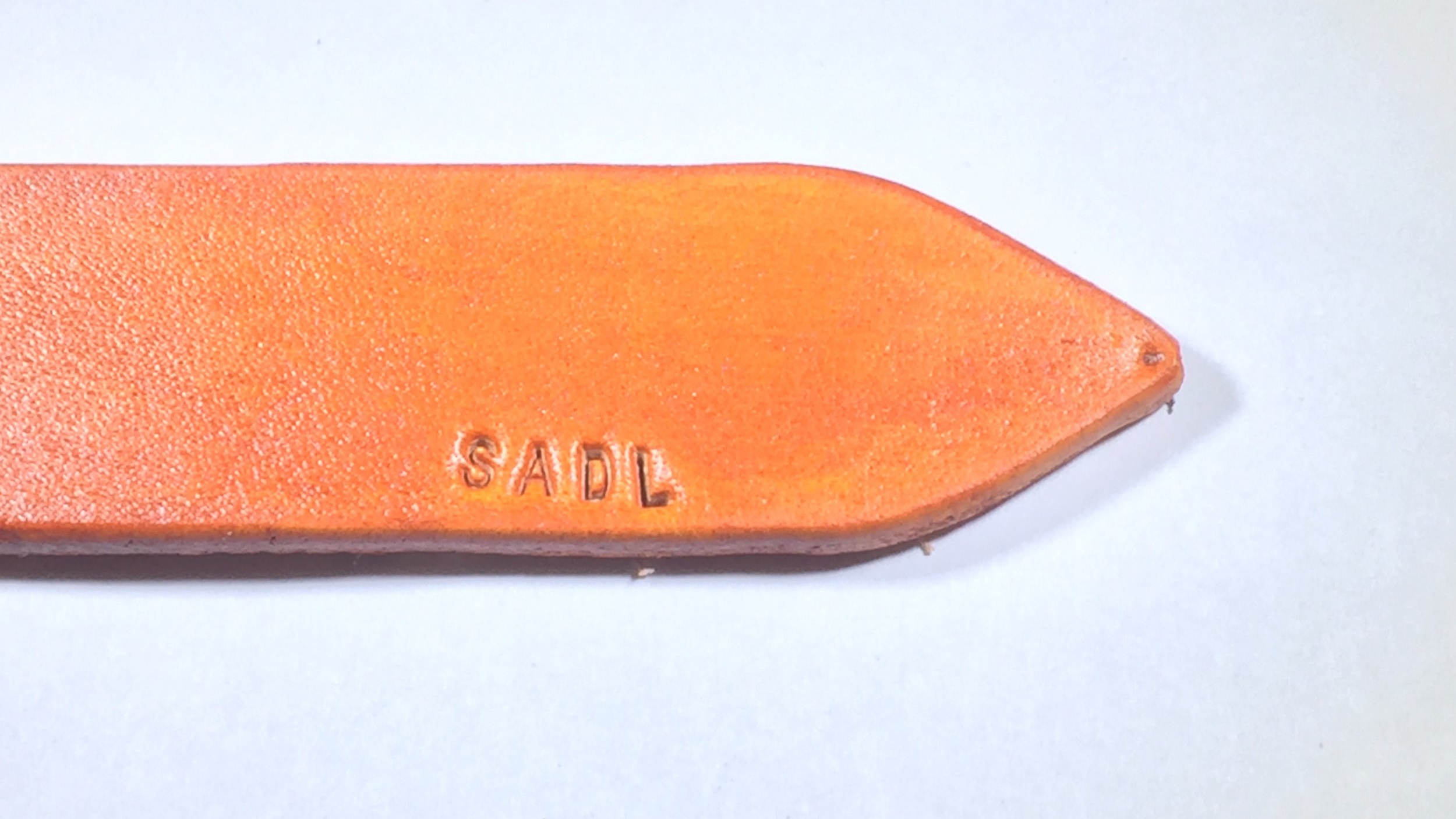 Additional Info
*THIS ITEM IS MADE USING REAL COW LEATHER AND MAY VARY SLIGHTLY IN COLOR, MAY SHOW SOME MARKS, AND WILL AGE NICELY.
WE HAVE TRIED TO REPRESENT THE FINAL PRODUCT IN OUR PHOTOGRAPHY AS BEST AS POSSIBLE, PLEASE TAKE INTO ACCOUNT THAT THE ACTUAL COLOR MAY VARY SLIGHTLY FROM WHAT YOU SEE ON YOUR MONITOR. PLEASE CONTACT US IF YOU HAVE ANY CONCERNS ABOUT THE COLOR AND FEEL OF OUR LEATHERS.
International Shipping:European Union (EU/EC) and other countries -- VAT, Customs and Excise duties are to be paid on top of the purchase price. Please check VAT and other fees with your local government before purchasing from the United States.