Leather Bi-fold Wallets | USA | Brullen® Company
Handmade Leather Card Wallets | Made in USA | Gatto-CW1
This is a 100% Handmade (English saddle-stitched) traditional leather Credit Card wallet....no sewing machine is used to make this beauty!
Why English saddle stitch? With a saddle-stitch; each stitch has a knot - where the two threads cross each other - inside the stitch hole. If one stitch were to break, the knots of the other stitches will prohibit the thread from unraveling unlike the lock-stitch of a sewing machine. Handcrafted in Gilroy, California USA ~ The Gatto-1 Card leather* wallet has been designed to be beautiful and durable.
Handmade with only Premium Full Grain Vegetable Tanned cowhide leather and 0.6 mm wax-coated polyester Ritza Tiger thread. Designed to hold ten to twelve credit cards.
Yes, this wallets takes significantly longer to stitch, with that said, the superiority of the saddle-stitch is well worth the time and cost.
Select the leather color and stitch color from our options and we'll get working on it!
Dimensions: 3-3/4" x 2-3/4" x 0.5" (95.25mm x 69.85mm x 12.7mm)
International Shipping:
European Union (EU/EC) and other countries -- VAT, Customs and Excise duties are to be paid on top of the purchase price. Please check VAT and other fees with your local government before purchasing from the United States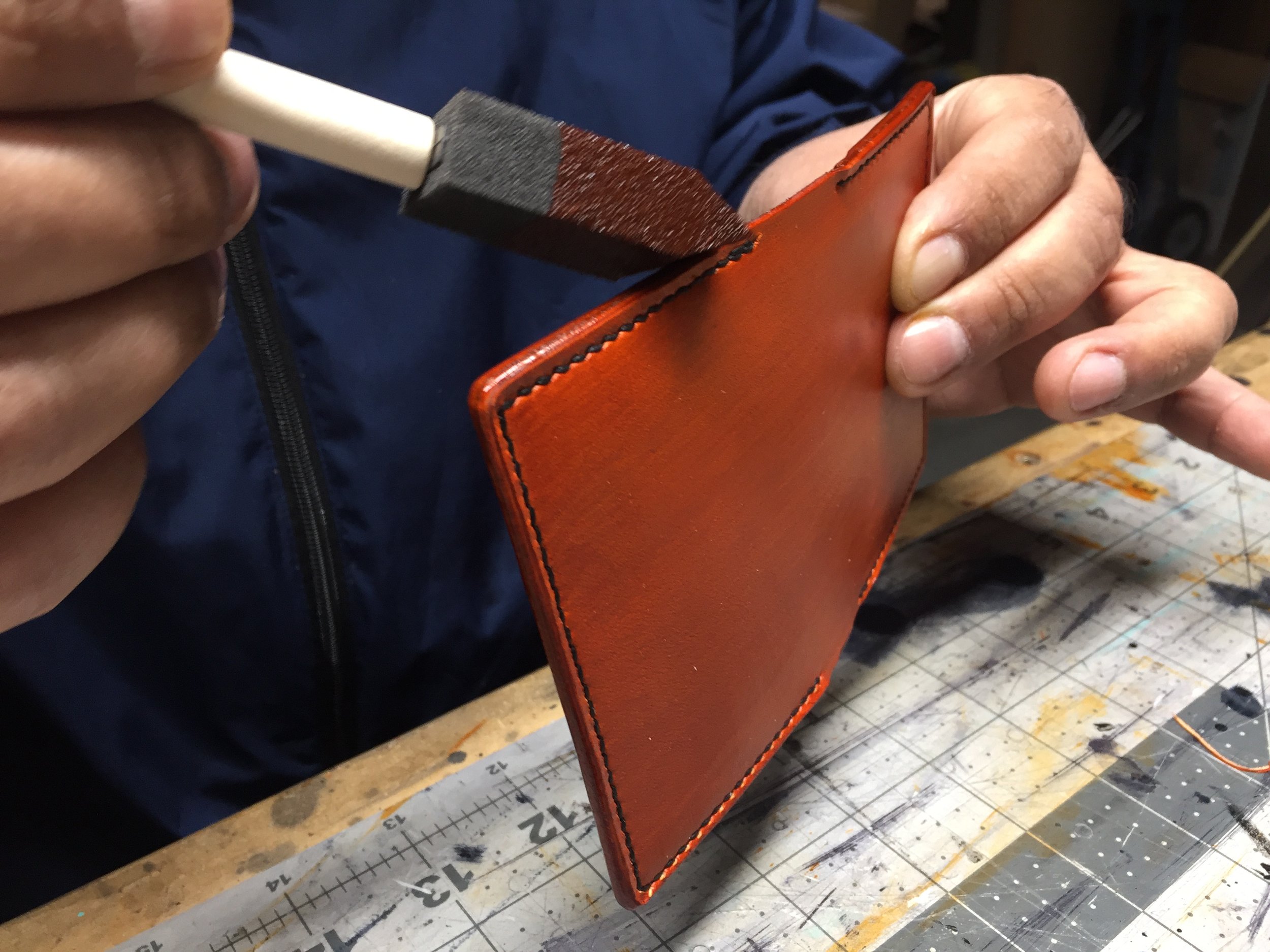 Additional Info
*THIS ITEM IS MADE USING REAL COW LEATHER AND MAY VARY SLIGHTLY IN COLOR AND WILL AGE NICELY. LEATHER MAY ALSO SHOW SOME MARKS. WE HAVE TRIED TO REPRESENT THE FINAL PRODUCT IN OUR PHOTOGRAPHY AS BEST AS POSSIBLE, PLEASE TAKE INTO ACCOUNT THAT THE ACTUAL COLOR MAY VARY SLIGHTLY FROM WHAT YOU SEE ON YOUR MONITOR. PLEASE CONTACT US IF YOU HAVE ANY CONCERNS ABOUT THE COLOR AND FEEL OF OUR LEATHERS.